Event Scheduling
Section 6.25
•
Dept: Facilities Services
•
Revised: December 12th, 2017
Archived versions
Public Events Board
The number, variety, scope, and complexity of events occurring on the Biola University campus increase significantly each year. In order to maximize the success of these events, foster cooperation, resolve conflicts, and enhance our overall professionalism, a basic system of coordination and scheduling is imperative. This responsibility is delegated to the Public Events Board (PEB), working in concert with the Campus Coordinator, under a mandate from University Communications & Marketing. This document explains the policies and procedures pertaining to events and their scheduling.
The PEB, in cooperation with the Campus Coordinator, is responsible for the approval of all proposed events at Biola University. The key factor in this goal to avoid scheduling conflicts is the careful coordination of university events. (See the following: "What if there are problems with a proposed event?")
Proposed events are examined and screened in light of Biola's mission and calendar. No major event may be confirmed and scheduled without the approval of the Public Events Board and the Campus Coordinator. The Public Events Board is appointed by and reports to the Vice President of University Communications & Marketing.
University Event Scheduling Policy
What Is an "Event"?
An "event" is any Biola-related or Biola-sponsored activity, on or off campus, which uses university facilities (including parking lots), equipment, set-up services, and/or promotional materials. If you have questions regarding what constitutes an "event" requiring approval, please call the Campus Coordinator at extension 5816.
The "Main Rule" of Event Scheduling
Do not publicize your event or make reservations or other commitments before receiving a Campus Coordination Confirmation and, if necessary, PEB approval! Any office, individual, group, or organization planning an event or meeting must submit a request via the Event Wizard in 25Live. All events/meetings submitted to Campus Coordination, which have attendance greater than 50 people are subject to Public Events Board review and approval.
Scheduling an Event
Calendar reservation requests via 25Live.
Adequate lead-time and specific, detailed setup instructions are required. Requests for event setups are to be submitted in detail to Campus Coordination for proper planning to occur at least three (3) weeks prior to the event (significantly more lead-time suggested for larger events). Requests are processed on a first-come, first-served basis.
After a Public Events Board review, you will be notified in a timely manner of your event's approval or of other decisions regarding your request. This could include possible Campus Safety coverage.
Outdoor Event Policy
The Biola campus is surrounded by single family homes and we want to be mindful of the impact we are having on the community around us. As a courtesy to our neighbors, we have developed an outdoor event policy that prohibits the use of outdoor audio within 150 feet of any property line and requires that an Event Services technician be present for all events requiring outdoor audio within 300 feet of any property line. The Outdoor Event Policy Map provides additional information about these outdoor zones.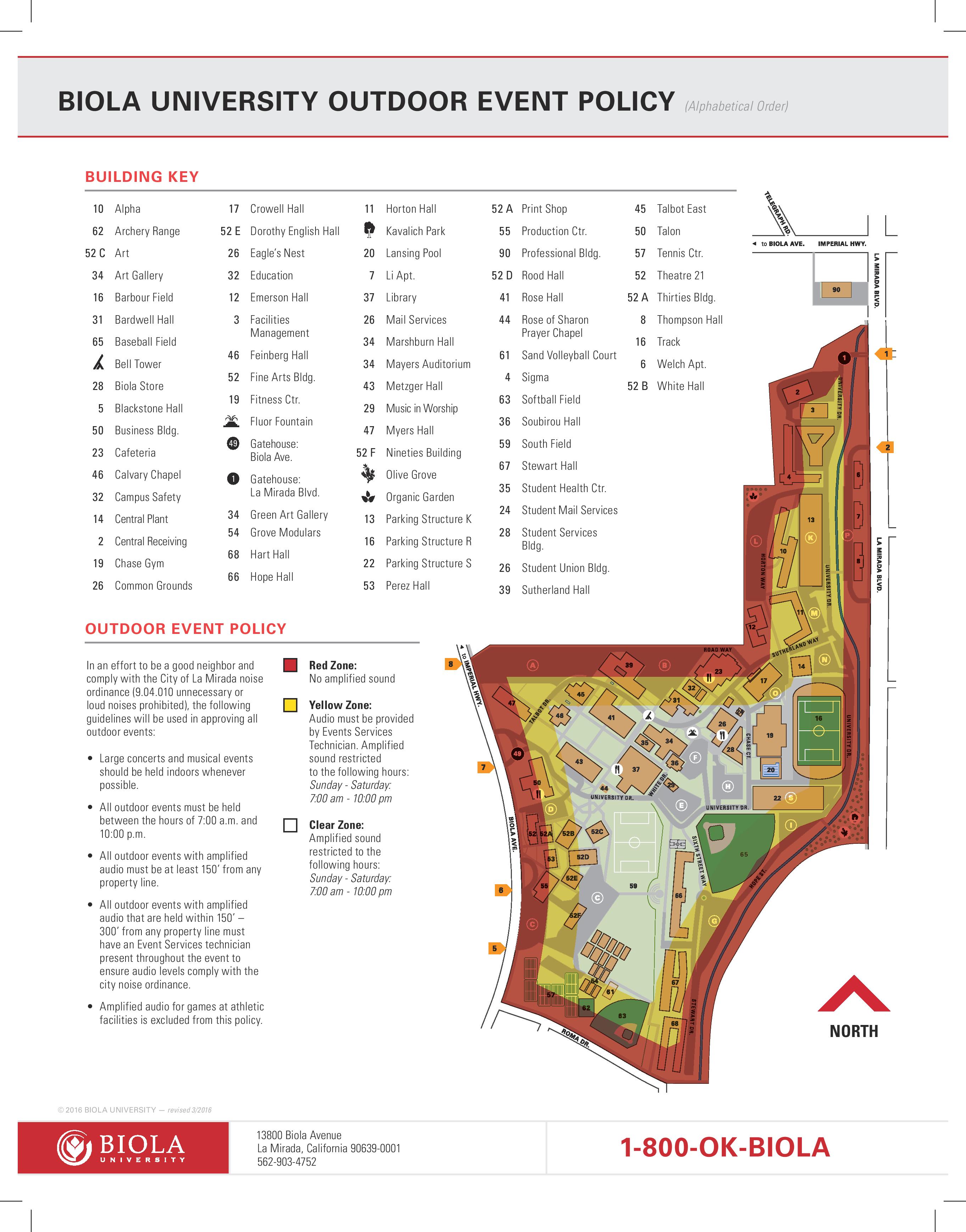 You may request audio/video/lighting equipment or support in accordance with this policy by selecting the pertinent items in the "Resources" section of 25Live.
What if There Are Problems With a Proposed Event?
Challenges with proposed events generally fall into six categories: (1) the venue has already been reserved on that date/time by another group; (2) another event is being marketed to the same audience at the same time, thus potentially hindering both events from reaching their desired audience goals; (3) the setup, parking, or sound may potentially detract from a scheduled event; (4) an unmanageable workload is created for Event Services or Campus Safety in terms of setup or security; (5) "philosophical" incompatibility with the University Mission and Values; (6) "philosophical" incompatibility with another scheduled event.
If there is a scheduling conflict, the PEB may suggest either relocation or rescheduling of the event or encourage its modification. If there is a philosophical conflict, the board may not approve the event. In such cases, the board's recommendation may be appealed directly to the Vice President of University Communications & Marketing.
In all decisions, the PEB will keep in mind the need to build relationships within the Biola community and will make its decisions with the success of each event in mind. An unsuccessful event is detrimental to internal and external public relations of the university.
After the Event is Approved
There is an opportunity to update the setup and logistical needs, if necessary. Personnel of Biola's Event Services department perform the actual setup of tables, chairs, technical equipment, special room arrangements, etc.
Last minute changes in setup requests should be made no later than three (3) days prior to the event. There are no guarantees for last minute requests.
Important and Helpful Tips
Event and facilities reservation requests are reviewed on a first-come, first-served basis. University departments should submit their event requests no later than six months before the date of the proposed event.
Events in the gym require the approval of the Athletic department.
If university resources of tables, chairs, and AV equipment are not available, rental charges may apply.
The safety and protection of the Biola community and its guests are of the utmost importance. Campus Safety officers may be required to cover your event at an additional cost.
Traditional Events
Certain annual, cultural, social, and co-curricular events are considered to be of such value and significance in the life and history of Biola that they are accorded special status. These events are called "Traditional Events." Traditional Events usually involve a large segment of the campus community, but do not necessarily appear on the Academic Calendar. Most Traditional Events have at least a 10-year annual history at the university. Traditional Events have priority on the university events schedule when they occur on their protected date. Other events may be scheduled concurrently with a Traditional Event, but such scheduling is the exception rather than the rule.
Biola University Traditional Events

Traditional Events

Traditional Dates

Event Coordinator

Fall Student Orientation Activities
Friday prior to week classes begin
Student Development
Parents Opening Day Luncheon
Saturday prior to week classes begin
Parent Relations
Art Gallery Openings
Monday/Tuesday evenings per schedule
Art department
Athletic Contests
Per each sport's conference schedule
Athletics
Staff/Faculty Christmas Party
1st Tuesday, Wednesday, or Thursday—off campus 1st Wednesday—on campus
Biola Weekend
1st weekend of October
Alumni/Parent Relations
Torrey Conference
3rd week of October
Student Ministries
Lyman Stewart Lectures
Week prior to Torrey Conference
Talbot
University Day
1st Thursday through Saturday of November
Admissions
Christmas Tree Lighting
1st Friday of December
Alumni Relations
Fall Commencement
Third week of December (M-F)
University Events
Alumni Weekend
Friday and Saturday of Founder's Week
Alumni Relations
Biola Youth Theater
Graduation—3rd week of January & June
Biola Youth
Nursing Commitment Ceremony
2nd Saturday in March
Nursing Department
Missions Conference
3rd week of March
Student Missionary Union
ACSI Science Fair
4th Friday in March (unless Good Friday)
Science Department
Spring Banquet
3rd Friday after Spring Break
Student Development
Symphonic Winds Pops Concert
1st Friday/Saturday in May
Conservatory of Music
Major Works Concert
2nd Saturday in May
Conservatory of Music
Graduation Banquets
3rd Friday in May/2nd Friday in December
Alumni Relations
Spring Commencement
Full week prior to & last Saturday in May
University Events
Some additional Music Concert Series events are considered traditional in nature, but the annual dates cannot be specified with certainty. These selected events will have the same calendar priority as other Traditional Events as the Conservatory of Music specifies their dates.